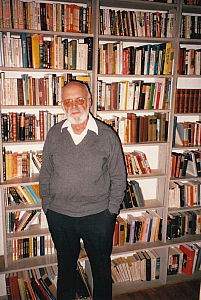 The photo of Don in front of a bookcase was taken at his Pueblo-style adobe home located at 984 Acequia Madre, Santa Fe, NM on February 10, 1988. Don turned 72, six weeks after this photo was taken.
I was on a business trip to Santa Fe and I had the late morning and early afternoon free. I knew Donald Hamilton lived in Santa Fe, so for the heckuva it I looked in the phone book for his name and number. Magically, there it was. I phoned. He answered and invited me to lunch at his hacienda. I spent an enjoyable hour and a half conversing with Don, meeting his wife Kay, and spending time in his hideaway - a little (220sf+/-!) detached studio out back where he did most of his writing. Visiting his beautiful abode was like stepping into Matt Helm's home scenes described in Death Of A Citizen. Exactly like the scenes in the book! Don gave me a Japanese paperback copy of Murderers' Row as a parting gift. What a wonderful way to spend a few hours in Santa Fe.
My only regret? I should have asked Kay to take a photo of Don and me together!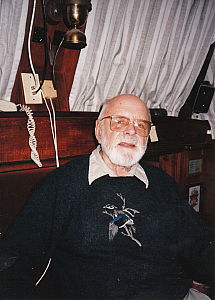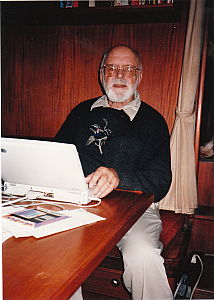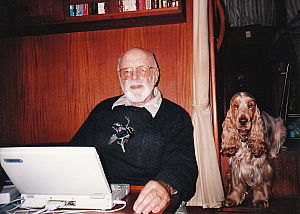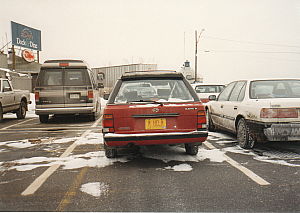 By chance both Don and I moved to the east coast in the early 1990s: Don to Old Saybrook, CT, to live on his 38-foot motorsailer - the Kathleen II - while he sorted out where to put down roots after the passing of his wife Kay in the fall of 1989; and me in 1992 to Rhode Island due to employment relocation from Arizona. It landed up that we were only 65 miles apart from each other via I-95 (Interstate Highway 95).
I spent a number of afternoons with Don on board the Kathleen II or out at one of his favorite restaurants -- the Dock & Dine in Old Saybrook, CT. We also broke bread in Warwick, Rhode Island, when Don was showing his dog - Matt (an English Cocker Spaniel, I believe) - at a regional dog show being held there.
I believe the photos here are from the last time I saw Don in February 1996. One was taken in the parking lot of the Dock & Dine. There's Don's late '80s or early '90s Subaru DL 4WD Wagon with New Mexico license plate M HELM!!!
The others were taken on board Kathleen II which Don lived on with Matt. It was moored at Pilot's Point Marina in Westbrook, CT. Don would turn 80 about a month after these photos were taken. My personal favorite is the one with Don and Matt. Don wrote me on September 18, 1996: "Many thanks for the pictures. In the one of the two of us, I think the fellow on the right is a lot prettier. At least he has more hair."
Once again, my only regret is that after the many times I visited with Don I never was smart enough to get a photo taken of the both of us together. Go figure!
Ray Peters, pilots6960 at sbcglobal dot net, 6/22/2009